Kimaris is the sixty-sixth Succubus of the Goetia, whose name is a composite of Ki, as in 'Kia,' and Maris. The word, Kia is derived from the language of the Kalahari Bushmen of South Africa, which is a term describing, trance.
Whereas, Maris, is of the Latin, meaning, 'of the sea,' from the term Stella Maris, which refers to the Virgin Mary, the Sirius star of the sea, and the ocean of space, somewhat like the ancient Egyptian Goddess Nuit.
Although, space in the context of Kimaris, refers to the amniotic astral ocean of inner space; hence her connection to trance.
She is also known by the alternate names Cimeies, Cimejes and Cimeries, which could be construed as being misspellings of Kimaris.
She manifests as a goodly Mambo riding a black '58 Thunderbird; who may appear looking like the horror hostess, Elvira, wearing a black, gothic, revealing, cleavage-enhancing gown.
Her wickedly vampish appearance is offset by her comical character, quirky and quick-witted personality, and Valley girl-type speech out of New Orleans.
Or she may manifest as a female version of Baron Samedi, smoking a Cuban cigar. She possesses the abilities of locating lost or hidden treasures, teaching trivium (grammar, logic and rhetoric) as well as making her master into a powerful Houngan.
It is said she carry her master over seas and rivers very quickly in her macabre Voodoo car, which symbolically refers to hypnagogic trance. She holds the rank of Marchioness, and is served by 20 legions of Succubae.
Kimaris can be seen as being similar to, Maman Brigitte (Grann Brigitte, Manman, Manman Brigit, Manman Brijit) who is a death (trance) lwa and the female counterpart of Baron Samedi of the Vodou pantheon.
She has a liking for drinking rum infused with hot peppers, whose power animal is a black Rooster. Although, Kimaris probably has a Dog as her psychopomp familiar called Sirius, or Gonk.
Like Samedi and the Guédé, Brigitte has a wicked sense of Discordian humour, which tends to be liberally peppered with outrageous sexual innuendos and various hilarious obscenities.
The over the top Monty Python humour of Brigitte, Samedi and the spirit family of the Guédé's is utilised to remind you not to take yourself too seriously, as well as making wiry social comments about the insanity of those in power.
For example Maman Brigitte would have exposed her right breast at a Super Bowl XXXVIII, which was broadcast live on February 1, 2004 from Houston, Texas on the CBS television network in the United States, just like Janet Jackson did.
She might even say: "It's truly embarrassing for me to know that 90 million people saw my breast, and then to see it blown up on the Internet the size of a computer screen … But there are 'much worse things in the world,' and for this to be such a 'focus,' I don't understand."
It just so happens, while Jackson's exposed Entartete Kunst breast shocked hypocritical church, synagogue and mosque leaders, along with whoring politicians, whom raged and frothed at the mouth, demanding an immediate crackdown, and widespread debate on Elvira indecency in broadcasting, there was an inquiry into the failure to find WMD's in Iraq, which damaged the credibility of the US and Britain.
However, the general public had been otherwise whipped up to be far more concerned about Jackson's baby feeder breast, of perceived pornography, than to be worried about the pornography of a war raging in Iraq. When you see the joke, you have to laugh, otherwise you will go quite mad.
The humour of the Guédé's is also utilised to offset a morose state of mind, which tends to afflict those whom explore the arena of the occult, which is primarily due to their dogmatic attitude of an indoctrinated religious sentiment.
The comical antics of the Guédé's entered upon the worldwide stage, when they influenced the dark humour of the 1960's sitcoms of The Addams Family and The Munsters, whose characters are akin to the Guédés.
As a New World lwa, Maman Brigitte is syncretized with various saints, including: Saint Brigid, and Mary Magdalene who protects gravestones in cemeteries if they are properly marked with a 'solar' cross. Brigitte originally comes from pre-Christian pagan Britain of a Woad skinned Cimmerian.
Her name originates from Brigid, the Celtic 'triple goddess' of light, poetry, smithcraft, and healing. It is very likely that Brigitte entered into Haiti when pagan Europeans were fleeing the persecution of their elder faith by the inquisitional church, during the genocide of the Witch burning era.
Brigitte's origins is revealed by a Creole song, which is chanted in ceremonies: "Maman Brigitte, li soti nan anglete;" when translated is: "Maman Brigitte, she comes from England…".
Maman Brigitte is presently seen to be the wife of Baron Samedi, who is the Master of the Cemetery and chief of all the departed ancestors, who are collectively known as lwa Guédé. Hence Kimaris is described in the Goetia, ruling over the spirits of Africa; but as Brigitte she rules over the spirits of Europe as well; suffice to say, she has no time for racists. The connection between Brigitte and Samedi indicates a wedding of a sublime synthesis between the European and African pre-Christian elder faiths.
It is traditional that the grave of the first woman buried in any cemetery in Haiti is consecrated to Maman Brigitte, upon which her ceremonial cross is erected. She is then invoked to 'raise the dead,' in order to cure and save those who are afflicted with a deathly illness caused by malign maledictions. Below is a song about Maman Brigitte sung in Vodou healing ceremonies in Haitian Creole:
"Mesye la kwa avanse pou l we yo! Maman Brigitte malad, li kouche sou do, Pawol anpil pa leve le mo (les morts, Fr.) Mare tet ou, mare vant ou, mare ren ou, Yo prale we ki jan yap met a jenou."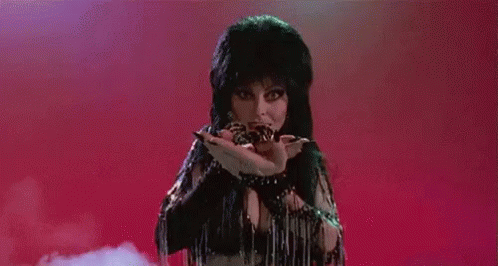 English translation: "Gentlemen of the cross (deceased ancestors) advance for her to see them! Maman Brigitte is sick, she lies down on her back, A lot of talk won't raise the dead, Tie up your head, tie up your belly, tie up your kidneys, They will see how they will get down on their knees."
The healing chant can be interpreted as meaning, "tie up your belly, 'gird up your loins' to prepare for the strain of the ritual, we will make the people who did this evil spell get down on their knees to beg pardon and receive their punishment."
The primordial practices of Haitian Vodou appears to be quite separate from the high tech futuristic world of cold cybernetics. However, the Cyberpunk author William Gibson sought to forge a Neuromancer bridge between these apparently separate realities in his novel Count Zero. The principle character of the novel is a hacker extraordinaire, going by the name Bobby Newmark, whose handle is Count Zero. Newmark encounters an artificial intelligence on one of his jaunts into the virtual realities of cyberspace, which manifests as a woman, surrounded by wind and stars who saves him from flatlining.
Newmark does not why he had encountered the woman on the net, or why she had saved him from certain… death. Newmark's journeying into cyberspace is none too different to that of a shaman attaining trance ingress into a lucid dream.
Further on into Gibson's mythic work of synthesis, we meet up with the mysterious girl, Angie Mitchell, whose head has been rewired with a neural network, which enables her to channel entities from out of Cyberspace without a deck, who is in essence, possessed, like a medium communing with the realm of the dead.
Newmark eventually meets Beauvoir, who is a member of a Vodou cyber sect, whom relates that in cyberspace the entity he actually met was Erzulie, and that he is now a favourite of Legba, the lord of communication. Erzulie is a lwa of love and sexuality, you can also fuse with Kimaris, since sex (1) and death (0) become one in superimposition state orgasmic trance.
Erzulie's full title is Erzulie Freda Dahomey. The name of, Freda is derived from the Norse Goddess of sexual love and Witchcraft called, Freyja, mistress of Cats, the Saxon's knew as, Freo.
Catwoman Freyja is also a Goddess of the dead, who has similarities with the Celtic Goddess Brigid.
Freyja's male counterpart is the shamanic deity called Odin, the Saxon's knew as Woden. Odin is seen to be very much akin to the ancient Greek shamanic deity called Hermes, who is the lord of communication; whereby similar to the African lwa Legba.
Odin is also the lord of the dead, who has similarities to Baron Samedi. Although, another lwa called Papa Ghede, who is similar to Baron Samedi wears spectacles with one lens missing, which appears to refer to Odin having a singular eye. In other words, the Northern European deities have been assimilated by African Vodou, which has led to a superb cross-cultural symbolic synthesis.
Beauvoir explains to Newmark that Vodou is the perfect spiritual paradigm for this era, because it is pragmatic – "It isn't about salvation or transcendence. What it's about is getting things done ."
Gibson's book intuitively grasps that there is a need for a symbolic interface with the coming cybernetic technologies of virtual reality systems, which leads the reader into the organic symbolism of Haitian/New Orleans Voudou.
As a fan of jazz and other urban music, which Gibson knows is heavily influenced by African rhythms, he instinctively found a symbolic interface, which had the necessary fluidity to evolve alongside an ever evolving technology, whereby allowing the user to not forget their humanity in the process.
There are many intriguing associations, which Gibson had discovered between the African-descended spiritual system of Vodou and an emerging high-tech future of cybernetics; these associations are shamanic of orientation. But, what do you expect, shamanism is all about altered states of consciousness, which requires you to have an in depth understanding of your own neurology. Gibson is tapping into the zeitgeist concerning the coming singularity, which fuses cybernetics with the science of neurology. Though at first seemingly unrelated, Gibson sees the synthesis of Vodou as providing us with one of the hidden keys to the Matrix, which is the need for a symbolic language form to be used by a virtual reality interface with the machine; this is in essence none too different to the symbolic language form of the dream.
Kimaris empowers shamanic trance ingress into the amniotic astral ocean of inner space, which is technologically mirrored by Cyberspace, where a sorcerer can conjure the Succubae into his lucid dreams, who are all as sentient programs; with whom he can thence engage himself with, within their virtual reality dream worlds.
Kimaris may make you wonder if the singularity has already occurred and that you are existing within a vast computer simulation.
When you come to this realisation, you might just hear Livivng Dead Girl Kimaris purring into your left ear of clairaudience, reminding you of a Schrödinger feline, along with smelling a waft of cigar smoke, mixed with the aroma of rum.