H.P. Lovecraft was a surrealist visionary of the highest calibre, and like most surrealist artists he derived his inspiration from impulses, which stemmed from the deepest recesses of his subconscious mind. However, Lovecraft was a rarity, whose dreams were vivid of a lucid reality, which guided his hand to write of nigh automatism.
His dreams were somewhat moulded by shadowy predilections concerning his disdain for intimate human relationships; more so that of the sexual act.
Lovecraft was quite honest about his difficulty forging relationships with women, who had otherwise channelled his base biological drives into his creativity.
Many have noted that Lovecraft's Necronomicon creations have Freudian overtones, concerning slimy tentacles of a phallic propensity along with gaping vagina dentata maws dribbling ichor. Little wonder then that Lovecraft's Cthulhu Mythos inspired the vore fetish of Hentai.
Although, the tentacle porn of many a Hentai comic depicting monstrous entities consuming their writhing female prey, are primarily based upon ancient Japanese fertility deities, which have been warped all out of shape.
For example, you have the popular Japanese folktale of the Dream of the Fisherman's Wife, also known as Girl Diver and Octopi, Diver and Two Octopi, etc., which inspired a Zoophilia-associated woodcut design of the Ukiyo-e genre by the Japanese artist Hokusai.
The woodcut is derived from the book Kinoe no Komatsu (English: Young Pines). It is a three-volume book of Shunga erotica first published in 1814, which is the most famous Shunga, Hokusai ever produced. Playing with themes popular in Japanese art, the prior Hentai image depicts a young female Ama diver entwined sexually with a pair of octopuses.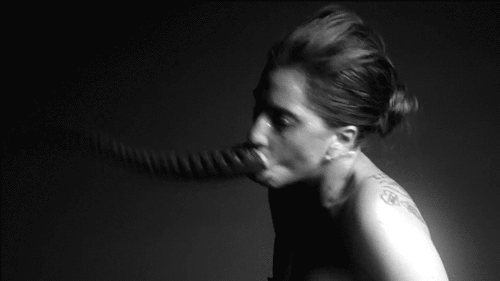 The Dream of a Fisherman's Wife was a very popular subject in Ukiyo-e art. The artist Utagawa Kuniyoshi produced a number of works based upon it, which often include octopuses among other creatures being teased by the bare-breasted female diver.
The Dream of the Fisherman's Wife is not the only work of Edo-period art, which depicts erotic couplings between a woman and an octopus. A number of early Netsuke carvings show cephalopods having intercourse with nude girls. Hokusai's contemporary Yanagawa Shigenobu created an image of a young woman receiving cunnilingus from an octopus, which is very similar to Hokusai's Hentai depictions in his collection Suetsumuhana of 1830.
The prior works of Hentai has influenced a number of later artists such as Félicien Rops, Auguste Rodin, Louis Aucoc and Fernand Khnopff. Pablo Picasso painted his own version of the Japanese tale during 1903, which has been shown next to Hokusai's original in various exhibits on the influence of 19th-century Japanese art on Picasso's work.
In 2003 a derivative work was created by the Australian painter David Laity, also titled The Dream of the Fisherman's Wife, which sparked a minor obscenity controversy among shocked Christian's when it was shown at a gallery in Melbourne. After receiving multiple complaints, the Melbourne police were forced to investigate the artwork, but determined it had not broken the city's pornography laws. Hokusai's print has had a big influence on the modern Japanese-American artist Masami Teraoka, who has created a number of erotic images of girls, including a recurring 'pearl diver' character, being pleasured by cephalopods, which symbolises the female sexual power over the (tentacle) phallus, who empowers its erection.
My own rendition of The Fisherman's Wife 'depicts her with a reptilian type creature fused with a cephalopod, of a Cthulhu, which is also a play on words, concerning the text, which can be found accompanying Hokusai's image, where the big octopus says, he will bring his captured girl to Ryūjin's undersea palace, you can otherwise see as Lovecraft's undersea city of Ryleh.
It is very likely that Lovecraft was aware of the tale of The Dream of the Fisherman's Wife, since he was a well read fellow, whose horror, was of the sexual act its self.
If however, you do not believe that the Hentai fixation upon Cthulhu tentacle sex, which mostly involves Geisha (Dakini/Succubus) Schoolgirls frequenting many an Anime and Manga has anything to do with ancient Japanese fertility cults, perhaps there is a psychological reason behind the voyeuristic fetish of Hentai bestiality, involving a number of vore beasts.
If so, the motif of the monster, whether it be a cephalopod, insect, reptile, mammal or an alien, etc, can be generally summed up as representing a bad inner-self-image, of a Cthulhu, which is housed in your reptilian brain of Ryleh. The negative self-image will invariably engender an inability to forge normal 'emotional' relationships with the opposite sex.
This would then lead to an extreme inner frustration; whereupon the sexual impulse becomes all consuming, which is expressed as the Lovecraftian vore fetish in varying Hentai fantasies.
Or otherwise being symbolically represented as cannibalism, involving the Ghasts and Gugs of Lovecraft's underworld dreamlands, or otherwise that of Zombies and Ghouls etc.
Whatever the case, these dark impulses can be symbolically transmuted and healed via Art, which Lovecraft took much further into imaginative realms, where they became nigh spiritualised.
Though dark of visionary insight, Lovecraft did not allow himself to fall into the lower depths where present Hentai tends to frequent of meaningless pornography. Whereas prior of Hokusai Hentai, the erotic imagery concerned the symbolic transmutation of the sexual impulse in order to evoke the inner-self-image of the observer coupling with his 'Anima,' which is none too dissimilar to the European fairytale motif of a Dragon entwining its self around a Princess bound to a 'tree,' before consuming her.
As for Lovecraft, he could have crossed over into the more meaningful domain of the erotic, and in so doing tackled his emotional disconnection, if he had rebelled against his puritanical upbringing.
His acute emotional turmoil, though inspiring his art, very likely led to him developing an illness over time, which afflicted his navel Chakra and in turn bringing about his eventual demise.
He himself, had many years earlier communicated that his stomach was gripped by the talons of faceless creatures he named as Nightgaunts, at the hypnagogic point of dreaming, which then carried him into the depths of tormenting nightmares. May be he foresaw his own death?
As mentioned prior, the Lovecraftian creatures of Hentai were originally based upon ancient Japanese fertility deities, which have since lost their 'navel Chakra' meaning in a culture, afflicted by a fear of the female. This is probably due due to Judaeo-Christianity having an Animus influence in Japanese culture, which, like its patriarchal source of Judaism and kin of Islam are extremely adverse to the feminine principle of the Fallen Anima.
It is somewhat strange that the depiction of the penis is allowed in Japanese art, such as having Lovecraftian phallic tentacles of 'Biblical proportions.' Although this is to do with the deification of the Animus, made as a God and Devil.
But when it comes to the vagina of the Fallen Anima it is taboo of a pixelated smudge, like that of having a faceless Nightgaunt, or should one say… a SUCCUBUS.