Sacred and profane, Angels and Demons transformed into Science Fiction Aliens; such is the mainstay of UFO lore, along with the media machine of the film industry, which manages your symbolic perception of reality; whether it be that of Demonic reptilians, spectral Greys, Angelic Nordics or Satanic men in black, etc.
It is all a continuation of an age old viral-meme, concerning horned up critters and their phallic symbolism, of a deified 'Animus' made as a God and Devil.
The majority of films, if not all are specifically made to conjure up the 'Animus,' residing amidst the psyches of all Women.
Whether it be monstrous of 'Animus' manifestation or otherwise of a projection upon men, it can be easily 'socially engineered' by the heavily controlled mass-media machine.
In Holy-Wood, 'No One Can Hear A Woman Scream.' Apart from those who love to make money off the back of a Scream Queen, who has been incited to protest against the 'Anima.'
Film makers know that a Bad-Boy male character, or that of some nightmarish phallic critter who personifies the 'Animus,' of women, rakes in their audience Shekels.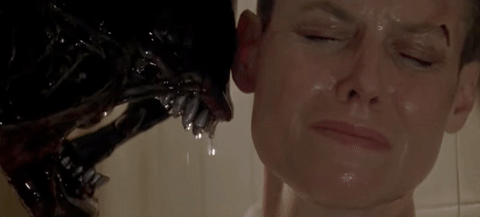 But they have to be intuitively versed in Neuro-Marketing to do so, which doesn't require a filmmaker being in league with some shadowy organisation, such as the mythic construct of the Illuminati, apart from his or her singular lens of an 'eye' being influenced by the three ILL-uminati cults of a deified 'Animus' out of UR.
But the filmmaker will never knock the ILL-uminati trinity of UR, since he or she has to pander to the religious indoctrination of the mass populace, who have been trained to buy into a mythic product over the generations; wherefore inadvertently reinforcing their brainwash.
Those filmmakers who attempt to do something different, invariably end up with an expensive flop. But then, they wouldn't have got the finance to do so in the beginning; Holy-Wood's media machine is a fixed game.
Anyway, Ridley Scott's film, Alien, would have never been a success without H.R. Giger's sorcerer conjurations, whose visionary genius of symbolic conjurations got people to see reality somewhat differently.
Although it's a darn shame that Scott went all Biblical Nephilim with Prometheus, involving a reference to a Luciferian alien, from whose fallen Angel DNA, all life on Earth had stemmed.
The alien kin of the fallen Angel, who are called engineers, then set about planning to destroy his progeny. But as the old story goes, there was a rebellion in heaven; whereupon the spaceship, which was carrying the genetic bomb was put out of commission by the rebel Angels.
But what do you expect of rehashed story lines, most of the Holy-Wood movies reinforce the symbolic 'Matrix' of the ILL-umaniti cults out of UR.
You then find your mind incarcerated; your inner eye, blinded by blood, caught within a black prison, whose cell bars are invisible; for they are made up of symbols, which is NSA over-watched by the fixation upon an oily Middle Eastern 'Animus' God of the Petrodollar!