There are those who see my work as having no symbolic foundation or proof of an elder influence concerning a focus upon the archetypes of the 'Anima.' Whereas the Abrahamic foundation of the 'Animus' fixated grimoires have a historical lineage in the Middle East, which had been later appropriated by Rome's empire. However, there are numerous examples of a symbolic focus upon the 'Anima,' which far-predates the Abrahamic gender focus upon the 'Animus.' Alas, there are hardly any examples of it, if at all, in European lore.
But, then what do you expect, not much has survived in regards to the pre-Christian shamanic traditions of Europe, due to the prior Witch burning's conducted by Rome's church, which lasted for over 500'yrs of tyrannical rule, when its Holy Inquisition committed mass genocide across Europe unto the Americas; wherefore ancient origins have been nigh eradicated.
So you will have to look into other elder cultures, who once shared ancient cross-cultural connections with Europe; an example being the European discovery of the Gundestrup cauldron of (Soma) 'Somras,' which is connected to India, whose peoples have not yet forgotten their own ancestral-self-identity.
There is an intriguing painting, painted by Raja Ravi Varma (1848-1906) depicting the Hindu deity called Ganesh who is surrounded by Eight 'Anima' fluctuation Goddesses. These 'eight' Goddesses are personified Siddhis.
The Siddhis are spiritual, paranormal, supernatural, or otherwise magical powers, abilities, and attainments, which are the products of spiritual advancement through Sādhanās, such as meditation and Yoga. The term Rddhi (Pali: Iddhi, "psychic powers") is often used interchangeably in Buddhism.
One of the 'eight' Siddhis is the ability of having unrestricted access to all places, across space and throughout time. This does not mean that you can miraculously teleport your physical body wherever you desire, but such can be achieved by your conscious awareness, when accessing a lucid dream. The point of the shamanic exercise is to consciously project your 'Five Senses' into another space-time locale, with full awareness, when attaining a 'Sixth Sense' lucid dream; wherein your third eye is opened.
Should you creatively utilise your TARDIS imagination, this particular Siddhi can be associated with the science fiction character of Doctor Who, whose characteristics are none too different to that of a Shaman. The shamanic character of Doctor Who can be assumed as an Avatar within a lucid dream, when 'meditating' upon the symbol of Doctor Who's TARDIS, in league with the 'fourth' (Ansuz) Rune.
In this case the Ansuz/Rune Siddhi is personified as a Goddess/Succubus, whose conjured manifestation within a lucid dream, enables the conjuring dreamer to attain the inner experience of becoming like Doctor Who, to thence remote-view other far off places and times.
I am not talking about taking on the guise of a particular Doctor Who out of the series, here. Doctor Who is more of an ageless inner archetype, who as mentioned, is none too different a Shaman, whose TARDIS is otherwise that of an 'eight'-legged-Mare, which symbolically represents the power of hypnagogic (Phase) trance.
(The Horse/Mare Rune is the nineteenth Rune called Ehwaz. In the Southern Siberian Altai region of Pazyryk, where a number of tattooed ice mummies have been discovered, there are also horse burials; some of the horses are bedecked in ritualistic attire, looking as if they have eight legs, wearing elaborate head-dresses, having Reindeer horns.) 
Doctor Who's character is very likely based upon the ancient shamanic deity of the Norse, called Odin, the Saxon's called Woden, whose sacred colour is blue. Odin's names are many, and each of his myriad names are that of an alternate guise to shape-shift into; whereupon he is ultimately known as the unknowable one, because his consciousness is formless, having no limitation of a definite form.
Odin means Light/Ecstasy Master, which was originally derived from the Southern Siberian Altaic word, Odqan, which means Fire King.
Odin/Woden is seen to have a singular eye, which refers to the third eye. He is known as the lord of the Runes, who wields a Rune (Word/Sound) spear (trident/trisula) named Gungnir, whereas Doctor Who has his 'Sonic' screwdriver.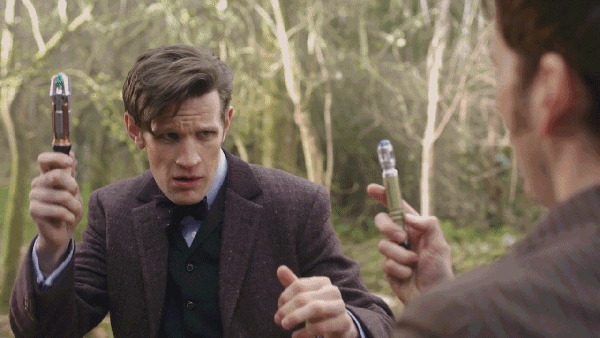 Odin/Woden also rides an 'eight'-legged-Mare called Sleipnir, which is none too dissimilar to Doctor Who's blue TARDIS when travelling the nine-worlds of the (multiverse) world tree of Yggdrassil.
And like Doctor Who he has female assistants called Valkyries, who are essentially his personified Siddhis.
Odin/Woden can be equated with the Hindu deity called Shiva, whose sacred colour is also blue, having a third eye of a DMT producing pineal gland.
He is regarded as being a master rather than a God, who is formless, limitless, transcendent and an unchanging absolute Brahman, and the primal Atman (soul, self) of the universe/multiverse. Odin/Woden and Shiva can also be seen as being similar to the Haitian deity, Baron Samedhi.
Shiva has many benevolent and fearsome Doctor Who manifestations. His benevolent aspects, has him being depicted as an omniscient Yogi (Shaman) who lives an ascetic life on Mount Kailash as well as being a householder with his wife Parvati and his two children, 'Ganesh' and Kartikeya.
When assuming his fierce aspects, Shiva 'polices' the multiverse, whereupon he is often depicted slaying malign influences just as Odin/Woden/Doctor Who are known to do.
Shiva is also called Adiyogi Shiva, who is regarded as being the patron deity of Yoga, meditation and the Arts.
Many of the (Kam) Shamans of North Central Asia hold Shiva in high esteem, who place Shiva's 'AUM/OM' trident/trisula amidst their (Oboos) altars.
Whereupon the ancient (Kam) Shamans also tended to wear the blue vestments of Shiva when inducing endogenous DMT (Soma) 'Somras' production within their own bodies of inner (blacksmith craft) alchemy.
The blue wearing Shamans are called (Khara Kam) black Shamans, whose practice involves the assumption of Shiva's guise within their lucid (TARDIS) dreams.
When lucid within the dream the (Khara Kam) Shaman can then (AUM/OM) vibrate the dream upon an uttered (Rune) mantra, in order to then conjure up the eight personified Siddhis as his (Succubi/Succubae) spirit wives, and each of the Siddhis are conjoined with an Avatar of the conjuring Shaman.
The (Khara Kam) Shamans do not worship Shiva as their God, they otherwise seek to emulate him as being the first horned Shaman/Artist, who created the deities to paint upon a cave wall.
And just as he can create as an Artist, he can also destroy what has been created of a form, being that of a belief, to then recreate it anew, to go beyond its limit; this is the evolution of consciousness, which has no limits.
NOTE: The modern symbolism of Doctor Who has an emphasis on a as yet unattainable futuristic technology, just as the Gods and Goddesses of mythology manifest powers everyday mortals only know of as fantasy.
The symbolism of Doctor Who can be traced back to an ancient mythological source where you find the Shaman, whose abilities are not mere fantasy.
The Shaman experiences the mythological reality within his self-induced lucid dreams, where a technology of a time machine is otherwise seen as an internal (Siddhi) ability, which can be achieved.
The Hindu Night-Mare Goddess, Kali is associated with the great wheel of time. Wherefore her Shakti power will empower a time machine, which can be symbolically translated into a meditation image of an eight-legged (Siddhi) Mare. 
When the Shiva Shaman consciously recognises the trigger-symbol of the eight-legged Mare within a lucid dream, he can then remote-view ride her as his Kali TARDIS. 
NOTE 2: Kali is an aspect of Durga, also known as Devi, Shakti and by numerous other names, who is a principal and popular form of Hindu Goddess. She is a warrior Goddess, whose mythology is centred around combating malign and demonic forces, which threatens the peace, prosperity and Dharma of the good. She is the fierce form of the protective mother Goddess, who is willing to unleash her Kali anger against those committing evil.
Durga is depicted in the Hindu pantheon as a fearless woman riding a Tiger, which is of similarity to the Norse Goddess called Freyja, who is the wife/lover of Odin/Woden. Durga has a retinue of female spirits called Dakinis, which in Europe would be considered as being none too different to (Succubi) Succubae.
Freyja likewise has a retinue of female spirits called Valkyries, whose nature is the same as the Dakinis. Durga appears in Indian texts as the wife of the God Shiva, as another form of Parvati or mother Goddess.
As you can probably deduce, there are many cross-cultural symbolic parallels between Hindu and Norse/Saxon mythology concerning Shiva and Odin/Woden, Durga/Kali and Freyja, as well as the Dakinis and Valkyries. Wherefore, the 'Siddhis' being personified as Goddesses (Dakinis/Valkyries) can be seen as (Succubi) Succubae to list within a Grimoire of the Fallen 'Anima.'