The beginnings of the Shaman Chaos Magic Art movement, which is otherwise termed as Chaos Art (Magick) Magik, or Surrealist Sorcery is rooted in the experiences of a British Sorcerer-Artist, Faustus Crow.
In his books, The Book Which Tells The Truth About Art Muse Lilith (1974) and Ultraterrestrial Art Muses Took Me to their Succubus Planet (1975), Crow describes experiencing encounters of the Sexagram kind with salacious female aliens since he was a very strange changeling childe.
Crow says that the alien nymphomaniacs abducted him into other realities, who are his Kamasutra Art Muses and spectral Dakini Art models, whom stem from other worlds, and historical times, as well as emanating from alternate Earth's, who bestow multiverse knowledge via his quantum computing lucid dreams.
One of Crow's Chaos Magic experiments was the knitted-together Frankenstein creation of a Coyote girl Tulpa construct, mantra named, Sally Tonopah in order to lucid dream remote-view Dreamland Area 51.
Or was it Area 52, Crow had conjured his Obsidian Butterfly to haunt? Can't recollect… probably both flowery Chakra locales.
Of course, most people consider Faustus Crow to be a mere poser, and quite mad to boot, let alone being absolutely insane, or far worse. But who is this, Crow exactly? Some say that Crow looks a bit like Fifty Shades of Devito, Witches secretly adore as their Great Beast Valentine!?
One thing for sure, Crow isn't a square jawed Hollywood actor looking like a photogenic Disney/Marvel eugenic superhero sporting oiled biceps, having a tight Baboon butt, nor does he look like Scientologist Tom Cruise having a fat Vatican bank account.
Crow doesn't even drive around in a flashy phallic racing car having the cultic charisma of Claude Vorilhon, etc.
Who on Earth would then take Crow at all seriously? Crow hasn't even got the aphrodisiac of materialism nailed down, which engenders the respect of the hypnotised masses, let alone having the necessary politically correct social media cred… So, one can thereby gather that all his followers must be deranged cultists.
Whatever the case, the Chaos Art Magic movement traces its Surrealist Sorcery beginnings to a 1990 Art conference, which was situated under the pyramid of the Louvre Art gallery in Paris, France, which was entitled, Yoni Stargate Belphegor.
The Yoni Stargate Belphegor conference was attended by two thousand female Art students who were all dressed up as St Trinian's schoolgirls, looking like Hogwarts Witches.
From amidst Belphegor's Louvre pyramid, the Chaos Church Of Art Magic was born, which promotes the infernal worship of Faustus Crow.
The name, Crow is a veiled reference to the Faustian experience of hypnagogic trance, the alchemists termed as being the Nigredo stage of the Great Work, which is initiated by a bedroom invading Night-Mare Succubus.
There is a women only membership in the Chaos Church Of Art Magic, who term themselves as being the Chaos Unitarian Nuns Templar of Lilith's Harem. The CUNT members often don the fetish costume of a leather Nun who are known as Nightgaunts, which is their Love-Craft moniker.
The Chaos Church Of Art Magic has a quasi-clerical structure of seven planetary Chakra levels, which has since become an anti-Art convent school, whose High Priestess is Molly Crabapple. She's really hot!
Joining the Chaos Church Of Art Magic requires an official apostasy from other belief systems. One of the CUNT goals includes the striving towards the dissolution of the Military Industrial Complex via the nonviolent means of Art protest.
There are also two anecdotes in the CUNT newsletter reporting female majorities joining the Asian Mongolian chapter of the Chaos Church Of Art Magic, which comprises of female (Udagan) Shamans who dress up as horned Babalon Nuns, whom worship Crow as their Animus fixation upon a Horny Great Beast.
Art Witches such as Mephistophina, the Chief Executive Officer of the Order Of The Obsidian Butterfly, otherwise known as the Nigredo lodge, plays a powerful role in the Chaos Church Of Art Magic.
There are two other major Pussy Riot groups of Art Witches in Crow's Chaos Church Of Art Magic.
The Order Of The Black Raven Tarot Dakinis, founded in the 1990's, consists of over one hundred and forty-four thousand female Art students.
The Order Of The Black Raven Tarot Dakinis calls for the rebellious awakening  of the Fallen Anima and the freeing of all males from the deified Animus projection of protesting Queen Bee feminists, who have unwittingly created the Fifty Shades Of Grey patriarchy, stemming from out of the oily Beehive ziggurat of Sumerian UR.
The Order Of The Black Raven Tarot Dakinis seek an animist balance between the Anima and Animus archetypes for all of humanity, who rebel against the deified Animus made as a God/Devil of the Orwellian New-World-Order matriarchy. The NWO matriarchy hides behind the illusory facade of its Animus projection of a female created patriarchy.
The initiation rites include declaring a Chaos Art Magic oath, while masturbating as well as entering into a Coitus Pactum with the out-of-body form of Faustus Crow, in which a woman agrees to become an Art Witch defender of the Chaos Church Of Art Magic and its Sorcerer-Artist founder Faustus Crow.
The Order Of The Black Raven Tarot Dakinis has its own Valkyrie hierarchy of "Rubedo Anima Angels" and "Albedo Anima Angels," who are otherwise called (Succubi) Succubae, which, as of 2003, are 777 and 777 women, respectively.
Crow's, Goetia Girls is another major group of female Artists in the movement who are against the suppression of feminine acts of pleasure, including the sexual worship of Faustus Crow.
After the Goetia Girls human cloning announcement made the headlines, the Daily Telegraph wrote that the Art Witches of the order not only provided sexual pleasure for Faustus Crow, but also helped donate eggs for efforts towards human cloning.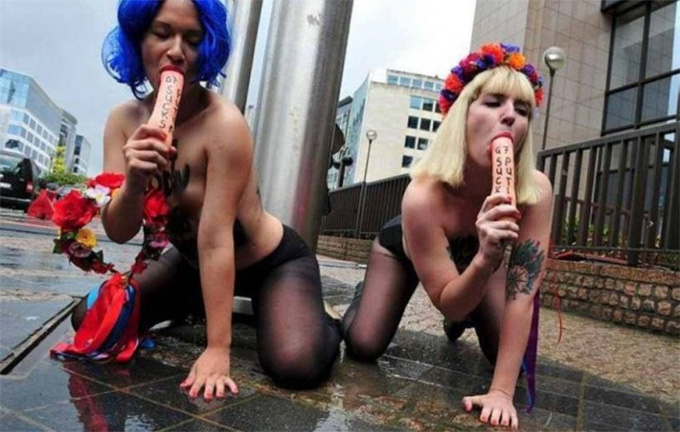 A few days later, Time magazine wrote that French chemist Brigitte Boisselier was an Order Of The Black Raven Tarot Dakinis member. Around this time, the scathing Art critic and cult investigator of the Vatican, Mike Kropveld called the Shaman Chaos Art Magic movement to be one of the weirdest and most transparent Art movements, he had ever witnessed; though he was utterly alarmed by the female Art student's promise to defend Faustus Crow's life with their own painted bodies.
Kropveld has since disappeared, nobody has been able to find him. A number of Police investigations has led to the suspicion that he had been abducted and duly dispatched by hashish-high female assassins of the CUNT, who are known as Velvet Buzzsaws, which is slang for the vagina dentata, or as 'Cats,' being an abbreviation for 'Concise Assassin Terminators.'
It is said that the Velvet Buzzsaw felines dress up all in black looking like female versions of UFO-lore MIB's, who are Crow's personal bodyguard.
But there is yet no proof of any foul play. However there are lurid rumours that Kropveld underwent a sex change in order to infiltrate the Los Angeles branch of the Chaos Church Of Art Magic. But he was very quickly discovered by the Art Witches, whose tortured body has since been entombed in a wax-work sculpture, which now resides in a Scientologist owned Art gallery, somewhere in cult-central Hollywood.
Faustus Crow has instructed his Goetia Girls to play a pro-sex role in the Chaos Church Of Art Magic, who declare that their bodies are his altar of an Anima canvas to orgasmic easel alter as he pleases.
Some researchers have noted that Crow's Goetia Girls solely consists of beautiful young female Artists who once worked in the film and sex industry. The women of Crow's Goetia Girls say there is no reason to repent for being a nigh religious sex icon, performing the Tantric Performance Art of striptease or being a sacred prostitute, who are now Crow's Art models and inspiring Art Muses.
The Goetia Girls organization was set up "to support the choice of women who see themselves as being the personification of the Anima, which resides within the inner temple of the male psyche. These female Artists also devoutly worship Crow as their sexual liberator." Crow's Goetia Girls and their Chaos Church Of Art Magic founder Faustus Crow were featured in a pictorial in the October 13th Necronomicon issue of Playboy, 2004.
"Article written by Eggbard Soth, an ex Catholic, Illuminati Freemason and a one time devoted Scientologist. Soth is an investigative journalist for the Abrahamic Ralien Movement, which is merely an Arkham Asylum cover. He is in fact an intelligence operative who is involved with the Psy-Op arm of DARPA, whose subversive social-engineering of society via varying subversively patronised political cult groups has presently molded your cultic perception of reality; whereupon you are living within a Matrix."
NOTE: On a more serious note, the discordian tongue-in-cheek Heyoka article was adapted from a description of the Raelian cult. So, should you think what I wrote, sounds totally barmy, it is not as crazy as the reality of the tax-dodging big-business Raelian cult, which has innumerable devotees, most of whom are women. What's more, I have rejected the focus on a tax-dodging cult, to otherwise describe a Surrealist 'Art Movement' comprising of crazy Artists paying their taxes.
As for the satirical over-the-top ego-eccentricity of Faustus Crow, it is an Avadhuta case of me laughing at myself Heyoka wise. Look to Claude Vorilhon to see the reality of an overblown cult ego. The Raelian cult, which is in competition with the L. Ron Hubbard's Scientology movement, is just one example, there are numerous examples of even stranger cults, which seek to warp the perceptions of the populace, whether they be religious, or political, or both, having many members as their automatons across the globe.
The more members a small-business cult has, it gradually starts to gravitate towards becoming a tax-dodging big-business religion, which will invariably seek to own material assets, such as owning land, having control over water, food and fuel supplies in order to survive as a hierarchical feudal entity, along with influencing two-party dictatorship politics, since politicians often whore themselves for money; hence owned as puppets.
The symbol systems a religion and its politics employs are essentially the Artistic expression of a particular culture from which it stems. Alas, the employed symbol systems are not seen as being Art, they are are usually considered to be unchangeable dogma, which does not allow for the questioning imagination to flourish.
This is especially the case if a religion utilises a feudal hierarchy and its pyramidal politics of control; those few puppeteers atop of the ziggurat run the puppet show, who easily do so via money, while a religion is used as a mind-control tool, like that of an opiate, which dulls the questioning of the masses.
When a religious/political construct starts to lose its big-business hold over the masses, chemical means are resorted to such as fluoridating the water supply with a known sedative and a neurotoxin, to even add lithium to the mix, as well as using more technical means by introducing a cashless society, in which everyone is being 5G watched.   
An established religion and its ensuing politics, which has been around for a very long time, uses the same mind-control tactics as a cult does, it is just more Psy-Op subtle about it; wherefore you are in a cult without even realising it. 
NOTE: This satirical cult mandala article does not invalidate the experiences of lucid dreaming, and that of inner conjurations, which of an altered-state phenomenon is 'Very Real,' Shamans and Artists are very much aware of. As for the Succubus visitations, they are based upon actual experiences, I have experienced since a changeling Childe.
It is just a case of not making the employed symbolism a cult focus, nor creating a new-religion to add to the growing tax-dodging list. Wherefore my focus is that of an 'Art Movement.'
Hence the utilisation of underground comic Art, which of Pop-Surrealist symbolism is 'Anti-Cult.' Although religious or politicized cults can become financially lucrative for their Claude Vorilhon – Anita Sarkeesian founders, should they be of a subversive social-engineering use to the Big-Brother elite, whereas an Anti-Cult does not bring in the Orwellian Shekels.