The Forty-third Succubus archetype of the Fallen Anima, is called Sabnock.
Other spellings of the name include, Sabnacke, Salmac or Savnok, though 'Animus,' of a common label; the 'Anima' version of which is Sabnocki.
She is a Marchioness of the ninth planetary dimensional sphere, mighty, great and strong, who looks like Natasha Romanova, out of the grimoire comics of Marvel.
Sabnock had originally been incarcerated into a male form by Solomon's monotheistic minions of the deified Animus in order to bind her 'Anima' power.
But she eventually escaped her prison of a deified 'Animus' fixation.
She then took flight into her new Genie residence within a Russian doll, which found its way to Stalingrad (now Volgograd) prior to WWII.
It was from this Russian doll of a spirit repository, Sabnock's Succubus influence set about influencing the dreams of those around her during the Cold War.
Who, as mentioned earlier, was seen to look like Natasha Romanova out of the capitalist Marvel comics, of which many of the KGB personnel secretly read.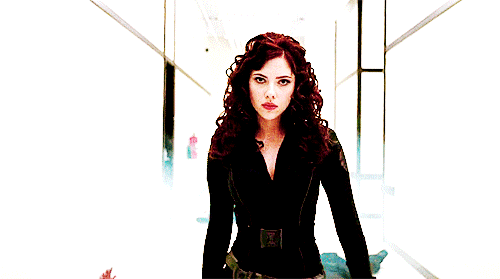 This led to Sabnock being known as the, ЧЕРНАЯ ВДОВА, 'Black Widow,' who of secretive whispers among the KGB became a most sensual shadow Muse of Russian psychic agents.
She informed the Russian psychic agents in the spy craft of remote-viewing, psychic martial arts, and dream assassination, which of dark psychic warfare teachings she communicated in depth, via those erotic dreams she induced.
When a male practitioner was visited by this fellatio loving Succubus, her hungry kiss was termed by the Russian operatives as the electrifying, ВДОВЫ УКУС, 'Widow's Bite.'
Her look is very feline, like that of a Lioness, who of visionary manifestation amidst the Triangle Of Art imagination initially wore a tight clinging evening dress and a veil, but symbolic fashions do change.
In response to growing intelligence claims, that the Soviet program had produced results in the arena of psychic warfare, via their conjuration of a Fallen Anima archetype of a Succubus, the American's reacted.
Even though it sounded absolutely crazy, the American's decided they had to rapidly nip it in the bud. The U.S. wanted her Black Widow beauty for their own Psychic Avengers.
Sabnock was eventually appropriated by the U.S., when her spirit repository of a puzzle doll was secretly smuggled out of Soviet Russia by sea, within a small statue of a pale silver Pegasus by United States intelligence operatives.
The American's believed that the Soviet Union was spending 60 million rubles annually on 'psychotronic' research, which was based upon Sabnock's dream revelations.
After appropriating Sabnock the CIA Avengers initiated funding for a new program: SCANSUC (Scan by Succubus) in 1970, which had been inspired by Sabnock's dream communications.
Remote viewing research began in 1972 at the Stanford Research Institute (SRI) in Menlo Park, California.
Although she initially missed her Baba Yaga homeland of the Russian Bear.
Proponents of the research said that a minimum accuracy rate of 65% required by the intelligence clients was consistently exceeded in the later experiments, when the operatives had erotically interacted with Sabnock within their lucid dreams as a very hot Marvel superheroine.
The shocking details concerning the erotic empowerment of the operatives remote viewing lucid dreams was of course covered up.
During 1977, the Army Assistant Chief of Staff for Intelligence (ACSI) Systems Exploitation Detachment (SED) started the GONDOLA WISH program to 'evaluate potential adversary applications of Sabnock's communicated remote viewing techniques, which of Genie practicality, required that she rode the Gondola erections of the operatives.'
Army Intelligence then formalized this in mid-1978 as an operational program GRILL FLAME, since Sabnock is a really hot Succubus.
It was based in buildings 2560 and 2561 at Fort Meade, MD as INSCOM Detachment 'G,' which of a letter is used in Freemasonry. (The letter G refers to the seventh Gebo Rune, looking like an X of Crossbones, which represents hypnagogic trance. The experience of hypnagogic trance is known as the little death, wherefore you have the Skull.) 
In early 1979 the Sabnock research at SRI was integrated into GRILL FLAME, which was re-designated INSCOM CENTER LANE Project (ICLP) in 1983.
During 1984 the existence of the Sabnock program was reported by Jack Anderson; a similar situation had previously manifested in Budapest.
This had occurred when an an unimaginative Soviet bureaucrat out of a Kafka novel, reported about the blacker than black psychotronic research to his superiors. However, bureaucrat Anderson was thankfully unaware of Sabnock's salacious Succubus influence; although in that year his report was unfavourably received by the National Academy of Sciences National Research Council.
In late 1985 the army funding was terminated. But the program was re-designated SUN STREAK and funded by the Defence Intelligence Agency Scientific and Technical Intelligence Directorate (office code DT-S).
In 1991 most of the contracting for the Sabnock program was transferred from SRI to SAIC, with Edwin May controlling 70% of the contractor funds and 85% of the data.
Its security was altered from Special Access Program (SAP) to Limited Dissemination (LIMDIS), and it was given the name STAR GATE.
Both of these names, Sun-Streak and Star-Gate refer to the bio-photon emanating from the mitochondrial DNA, which illuminates your electron dreams.
In 1995, the defence appropriations bill directed that the program be transferred from DIA to CIA oversight.
The CIA commissioned a report by American Institutes for Research found that remote viewing had not been proved to work by a psychic mechanism, and said it had not been used operationally.
The CIA subsequently cancelled and declassified the program so that it could continue underground.
This was more so the case since the operatives were conjuring up Sabnock to look like Scarlett Johansson wearing a spray-on superheroine costume, who took to her Genie residence within their Marvel meditation tool dolls, which had been specially designed by DARPA.
Sabnock's office is to build labyrinthine mind maps of 'dream Inception' in order to protect her conjurer from the malign intent of others, which involves creating high towers, castles and cities, and-to furnish them with armour, etc.
Also, she can attack her conjurer's enemies with her Elf shot arrows, who will for many days be afflicted with psychic wounds, opening up traumatic emotional sores, which be rotten, and full of self afflicting worm thoughts, until they change their ways. This affliction is somewhat akin to being bombarded by a microwave weapon.
She bestows most loving Succubae familiars upon her conjurer at his request. She commands 50 Legions of Succubae; and her seal of the Fallen Anima is to be meditated upon prior to conjuring her into your lucid dreams.
Sabnock is a composite name, which is derived from the words, Sab and Nock. Sab refers to, a person engaged in direct action to prevent a targeted activity taking place, which is derived from the word 'Sabotage.'
Wherefore Sabnock takes deliberate action, which is aimed at weakening the oppression of a polity or corporation through subversion, obstruction, disruption, or destruction.
In society, sabotage can be otherwise artistically exercised by reversing the established symbolic dialogue in order to set about causing change of a statically controlled perception, of which the Dadaist's and associated Surrealist's engaged in, of sabotage, as artistic saboteurs.
An example of which is sabotaging the establishments use of politically-correct Entartete Kunst mass-censorship and its corporate funded SJW agenda, which is tied up with eugenics and population control.
It is said that the word Sabotage was originally derived from the Netherlands, now Belgium, during the 15th century.
The word cam to the fore when workers threw their 'sabots' (wooden shoes) into the wooden gears of the textile looms to break the cogs, fearing the automated machines would render the human workers obsolete.
As for the word, 'Nock,' it refers to fitting an arrow to a bowstring; mentioned during the 1510's, which symbolically alludes to an arrow of thought being set to fly by the bow of your rebellious mind.