Many ancient traditions speak of an inner light, which is usually experienced within dreams. The shamans know it as the fire in the head, which is known by other names, such as Mana, Chi, Odic force, Orgone energy, etc, or even by the term, Vril.
The inner light could be the Bio-Photon, which emanates from within the Mitochondrial DNA like that of a (black Sun) laser. The Mitochondria within each of your cells 'determines the energy output the cell.' The mitochondria also has microtubules, which act like mini-onboard quantum computers, making calculations upon the spin of an 'electron.'
The Mitochondrial DNA is passed down from the 'Mother' to her children; wherefore, at an intuitive level, many a shaman had determined that the (bio-photon) inner light, which animates the characters (spirits) and scenarios (spirit worlds) within his/her informational dreams and visions has a (Mitochondrial DNA) female source.
There is the distinct possibility that the Mitochondrial DNA, is communicating with other Mitochondrial DNA, which occupies the cells of other life-forms via an interconnected web of light, being the Bio-Photon.
If such is indeed the case, then a shaman who can consciously dream will be able to access his/her Bio-Photon illuminated dreams of a vast web of information concerning other life-forms, and that of creation, to 'browse' of an inner internet.
Wherefore, a shaman will have to learn the right (key-words) songs in order to conjure up what he/she desires to access, such as a Spirit (symbol) of an anthropomorphic (Succubus) Jaguar, who represents all Jaguars within his/her Bio-Photon dreams of spun electrons.
If your Mitochondrial DNA is communicating with other Mitochondrial DNA occupying the cells of other numerous life-forms; then your Bio-Photon illuminated dreams would be very much like the 'Internet,' which can be 'Browsed' when you become lucid within the dream.
It just so happens the physicist James Gates has discovered computer code in superstring theory, which is the same code used in 'Browsers.'
His discovery might be indicative of how your consciousness at another level 'browses' the vast informational web, which of an 'informational associative' process can be consciously observed within your electron dreams.
If there is indeed a vast informational web interconnecting all creation then you have a Psychic Connection.
When this Psychic Connection is investigated by science, it will no doubt lead to the development of a technology based upon the understanding of how consciousness works.
Space and time are indivisible to consciousness; whereby, if the scientists have come to an understanding of consciousness, to also crack the space-time problem, they will also have time travel capability.
Although, if they were to discover that you are living within a computer simulation, which has been created by your far flung future descendants, of similarity to the Matrix science fiction films, your future descendants would be able to 'browse' any point in history, which would be a form of time travel.
Maybe the technology of your future descendants will be based upon the research of the theoretical Physicist, Dr Jack Sarfatti who is investigating the Q-Chip, which is modelled on human brain cells.
The Q-Chip, will be consciously self aware like Dr Who's TARDIS.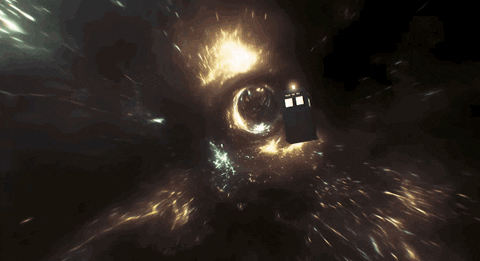 When the theorised Q-Chip is implanted into the brain, it would allow a future individual to access any point in history, which would be experienced of similarity to a computer 'simulation.'
But what if the Q-Chip already exists, being the Mitochondria, whose Mitochondrial DNA, and quantum computing microtubules is generating the virtual realities of your electron dreams.
This appears to be pointed at by the 'missing equation' James Gates has discovered, which may have been referred to by Lockheed Skunk Works chief Ben Rich concerning how a (TARDIS) UFO works.
But such would indicate that you are indeed living within a simulation.
Should you then engage in a mind experiment, to entertain a science fiction scenario of a future intelligence outside of the Matrix communicating its self to the simulations within the simulation.
It might just create geometric anomalies to appear upon the planets, such as Arthur C. Clarke's Saturn for example, the ancient Greek's knew as Chronos, who was their Dr Who Time Lord.
The ancient Hindu mystics had previously termed the simulation as being Maya, which they saw as being female of a 'light' source intelligence.