The Artwork is available as an Art print and a shirt design, which concerns Time Travelling within a lucid dream, such is indeed possible, since much of the reported precognitive and retrocognitive phenomena occurs when attaining hypnagogic trance ingress into a lucid dream. (If you are interested, I have written an account of a personal experience about riding the Night-Mare. Click Here.)
In ancient shamanic cultures, such as those of North Central Asia unto Siberia, the state of hypnagogic trance was symbolised as a Mare. Hence you have the European term 'Nightmare,' which was associated with the shamanic spirit wife complex, or otherwise known as a, Succubus, whose hypnagogic state visitations initially induce what is called the Old Hag Syndrome, also known as the Bedroom Invader Experience, the ancient Greek's termed as the Sphinx. (I have written a personal account of the Sphinx experience. Click Here.)
As for the Artwork, it depicts a Steampunk poster from an 'Alternative Locale III Earth,' during the Great Exhibition of 1851, where the Sorcerer Artist, Faustus Crow has presented his Necronomicon Time Machine of a psychic installation.
"When the author H.G. Wells to have conjured The Fifty-fifth spirit called Orobas from out of Crow's Necronomicon, Orobas manifested amidst his Triangle Of Art Imagination as a Night-Mare."
"She to have then descended upon Well's sleep paralysis afflicted corporeal frame as a strangling 'Sphinx' as he inadvertently accessed hypnagogic trance."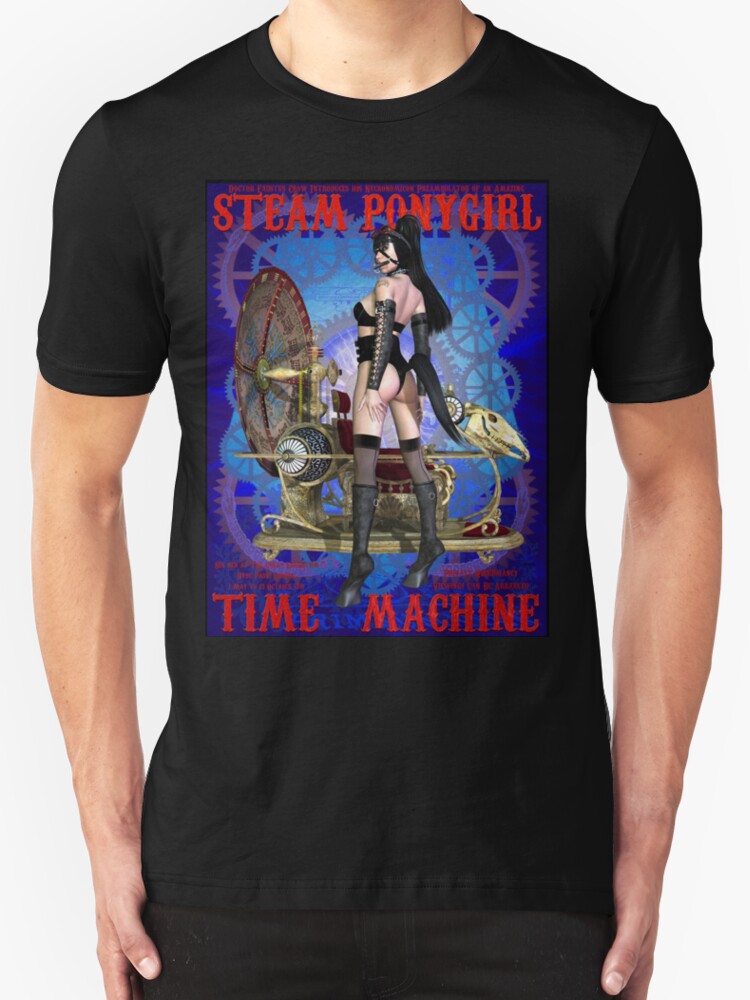 "But after Well's had attained a lucid dream, Orobas then manifested as a Pony Girl Art Muse, he to have ridden as his Witch 'Mare' of the 'Night' Time Machine, who enabled Well's to remote-view browse the Zodiac Ages of the vibrating Ouroboros."
When practicing Surrealist dreaming, the dreaming Artist will also have to make it a H.G. Wells habit of noting down his/her TARDIS dream adventures in a personal Necronomicon; for the Zodiac Ages have dead names to Howl out, of barbarous Mantra.
Wherefore the dreamer attains the Secret of the Sphinx, whose symbolism the ancient Egyptian's and Greek's associated with remote-viewing the Ouroboros of time within lucid dreams, H.G Wells later alluded to with his Time Machine.
The Artwork was used in my Art book Grimoire, entitled, 'Goetia Girls: Book Two,' which is available from Createspace and Amazon, under my author's name, Faustus Crow.
If you are interested in an Art print, or the shirt design, etc, check out my Redbubble Shop, Please Click the link Below.