There is one thing for certain that if you have a group of heterosexual males get together to create a tax-dodging religious cult, it will most assuredly have a gender focus upon a Sex Goddess, and what is more, she will not be some brainless bimbo either.
The reasoning for having a sex Goddess will be because of the employed symbolic logic, when seeking union with the divine, it has an underlying sexual connotation involved. Basically, it is the biological imperative to procreate, which is being internalised.
The archetype of the divine feminine is what the psychologist Carl Jung termed as the Anima, whose numerous feminine archetypes resides within the psyche of all males, which determines their choice of those women they chase after. Should a male be lucky, he may be chosen by a woman, who, in some respects represents his Anima.
The Anima usually manifests within eroticised dreams, and when a male becomes aware of her feminine presence within his dreams, you could otherwise term as being (Succubi) Succubae, he can then unify himself with her inner manifestations.
The union with the Anima empowers the masculine self-image of the heterosexual male, whereas for a lesbian, her masculine traits are emphasized.
In other words, a male becomes as a God within his own psyche when he unifies himself with his inner Anima, which can otherwise be termed as his soul. In ancient cultures, the soul was usually seen as being the opposite of the physical gender. Hence one has the term, Soul-Mate.
Wherefore, it is very unlikely a group of heterosexual men would create a monotheistic gender focus upon the male, unless it is to do with having mythic superhero role-models.
But when it comes to seeking union with what is considered to be divine, a heterosexual male would look to an archetype of a Goddess to enter unto her cosmic orifice; whereas those males who are closeted, homosexual or bisexual of orientation will prefer a monotheistic God to enter their orifices.
It will be the heterosexual women who would create a monotheistic gender focus upon the male, which represents their deified Animus. The archetype of the Animus resides within the psyche of all women, which determines their Babalon choice of those males they choose among the beasts to ride.
There is a biological trait women all share, of nature; women are very competitive among each other, which they will not deny. It is common knowledge, anyway; just like having Sarah and Hagar competing over their Animus projection upon a useful Abraham.
Whereby, the women will not like their useful Abraham's having an inner Anima focus upon an Ishtar Sex Goddess, which they will jealously see as being competition, or to otherwise castigate as objectifying them, or to tar and feather as being vile pornography.
Hence you then have a very jealous deified Animus, made as an All-Father fixation Jehovah/God/Allah, along with a Crucified Beta-Male Good-Guy Christ and an Alpha-Male Bad-Boy Satan/Devil-Lucifer/Shaitan.
So, it is somewhat humorous that you have a topless activist from the feminist group Femen who attempted to snatch the Animus statue of a baby Jesus from the Nativity scene in St. Peter's Square. Her protest was however blocked by the burly police in the pay of the financially lucrative Animus cult as she grabbed hold of her little Animus icon.
A Reuters photographer said the topless woman had jumped over the guard rails wearing spray on Yoga pants, and rushed onto the larger-than-life Nativity scene baring her pert breasts, shouting "God is woman". She had the same slogan painted upon her bare back.
A heterosexual male would wholeheartedly agree having the creative principle of existence, a Native American would call the Great Spirit, being symbolically represented as a Woman wearing spray on Yoga pants. But only if he is aware of his inner Anima; then he can fuck his way through Hell's womb to pussy Heaven.
A Fifty Shades Of Grey Vatican gendarme of the deified Animus cult stopped her from taking the statue of her little Animus, and she was duly bound up, handcuffed and detained in a cell. The incident happened about two hours before Pope Francis of the Franciscan banker elite delivered his cult Christmas message to some 50,000 adoring Animus worshippers in the square.
Femen identified the protestor as Alisa Vinogradova. Femen was founded in Ukraine, which has the same goal as the Russian feminist protest punk rock group based in Moscow called Pussy Riot. The Pussy Riot goal of the Femen group is to have, "complete victory over the patriarchy."
This is rather humorous, since the patriarchy of the deified Animus is the creation of women. Many will of course Banshee scream that such is not the case, whose argument will very likely reflect the controlled mass-media machine hype out of corporate owned America, in particular.
But it is bloody obvious, when you have three monotheistic gender fixated cults, it is based upon sexual biology, because of the symbolic focus upon a particular biological gender.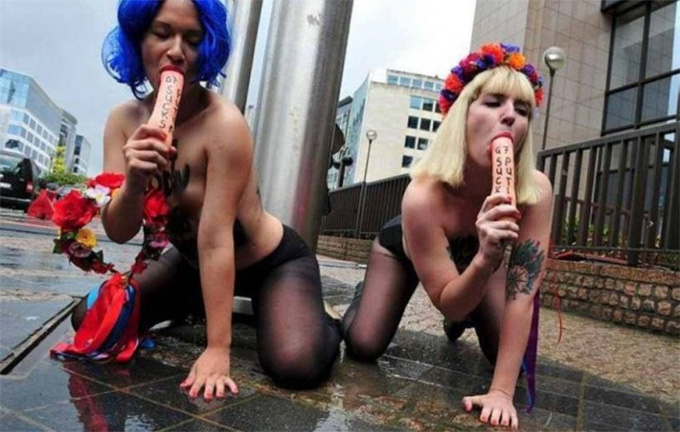 It is nature, which no one can argue against, and she's a real bitch! It would then be more of a case of women becoming aware that they have forged the gender fixated God structure of the patriarchy in order to then attain a victory over their own inner male archetypes, and that of their own Animus projections upon men.
When the Animus is not internally recognised, the projection can be easily manipulated by the bought media machine.
The men are not their Animus projection, although some men can take advantage of such a projection, if they have enough financial clout and political influence to do so for their own social engineering purposes.
But in order for Pussy Riot Femen to achieve their political Art performance goal, its members would need the men to become aware of their Fallen Anima, whose archetype has been entirely castigated out of the monotheist paradigm, apart from having a 'celibate' Virgin Mary of a quaint mother fixation.
A topless Femen activist staged a similar action on Christmas Day, back in 2014. On this occasion she managed to take the Animus statue out of the crib before she was arrested. If only she had Howled, "All men awake… Free your fallen Anima!" it would have made more sense, since most of the Pussy Riot Femen protestors look like Succubus Sex Goddesses, who, if they were so Dakini inclined can see themselves as rebelliously freeing the Fallen Anima within the male psyche.
This will of course not happen. Why? Because the three monotheist cults of the deified Animus have been around for a very long time. The few who control the cult triad do not want their Shekel tables being overturned in their New-World-Order banking temple. Follow the oily Petrodollar money trail and you will see it all for yourself, as clear as Camel shit hitting the Dune fan.
The controlling elite of the three monotheist Animus cults are very much aware that their deified Animus is an embarrassing weak spot in their cultural-construct armour. Whereby they have subversively hijacked feminist politics in order to distract attention away from what their weak spot actually is, by influencing the women to wildly protest, and in turn controlling the males, who are tarred and feathered as being vile beasts, whom are seen as creating the patriarchy.
Basically it is, divide and conquer, by sowing confusion, which has led to some 'Men Going Their Own Way,' this also feeds into socially engineered Psy-ops orchestrated population control.
Some may conjecture that Femen and Pussy Riot were patronised by Russian intelligence agencies in order to be subversively introduced into American feminist politics. This hypothesis doesn't take into account the global influence of feminism, which has a common misconception that the monotheist horror of the deified Animus was created by males, for an all male boys-club heaven on Earth.
That isn't to say that some of the big-wallet George Soros Peacocks haven't taken advantage of the Animus projection of the Hens; for it has always been the Hens who chose the strutting Peacocks, it is not, and never was the other way around. It is basic biology. Hence, as mentioned earlier, those who seek to socially engineer society will subversively influence the female population in order to then have control over the males.
If Pussy Riot Femen had been otherwise Dakini orientated of protesting Tantric performance Art towards enabling the males to become aware of their Fallen Anima, then the Animus cult horror show would have been seen for what it truly is of a very bloody illusion.
NOTE: A religious construct, which utilises a gender focus will also feed the need for archetypal 'role-models;' wherefore you have the feminist resurgence of the Goddess religions, which many a feminist sees as their sole creation; but such is not really the biological case. The feminist utilisaton of the Goddess archetypes have been used to bludgeon the Anima.
The God archetypes also act as archetypal 'role models' for males. However, their masculinity has been somewhat castrated by the feminists due to their Animus projection, which has been subversively manipulated by Psy-Op social engineers, sowing discord and misdirection from important issues, such as the ongoing conflict in the Middle East. Hence there are no anti-war protests of similarity to the Vietnam war era. Another underlying reason is in part, population control.
Overall, a woman utilises the Goddess archetypes in order to empower her self-image as a Goddess, just as a male utilises the God archetypes to empower his self-image as a God. A heterosexual woman seeks union with the inner reality of the divine by uniting with her Animus archetype of a God, just as a heterosexual male does likewise who unites with his inner Anima archetype of a Goddess. Then a woman and a man sees the divine in each other. (Yin/Female [Animus] + Yang/Male [Anima] = Tao)
Those of different sexual orientations change the gender symbolism as and when needed. Many ancient cultures did not see differing sexual orientations being a big deal at all, nor did they constantly harp on about it. Whereas the three closeted monotheistic Animus cults consider differing sexual orientations to be anathema to their shared dogma. 
As for the creative principle of all existence it cannot be personified as being either male or female, nor is it human of form, let alone owned by any human made cultural construct of a centralist religion to brand. But those who seek to have total control over your terrestrial existence by owning your purse strings behind a cultic smile, will have you believe otherwise! 
Religion is big business, which buys up material assets with your Shekels in order to keep its brand forever rolling on. For a big business religion to survive it will seek to have total control over what you need to physically live as well as finding various political ways, or even technological means in order to subversively influence your very thoughts.
Politics tends to be transient; but a religious construct is more of a self-perpetuated constant. You can thereby determine that the longer a big business religious construct has been around, it has all its 'Oily' fingers in the Petrodollar pie.
(The observation that conspiracies cannot be sustained over a great length of time due to historical variables, does not apply to a religion, which works to an unchangeable script, whose followers act out, as indoctrinated automatons down the ages. Look to the war torn Middle East to see the truth of an ongoing religious strife, since the time of Sumeria!)
At a biological level, the symbolic personification of the great mystery is how many ancient cultures sought to come to some understanding of their terrestrial existence, self-identity, relationships between the sexes and social-group interactions, etc, more so that of what is to come afterwards, let alone before their 'birth' involving a God and a Goddess doing the Tantric tango!