FORNEUS OCCULT INGESTION HENTAI DREAMS
Abdul Alhazred's conjuration of the Thirtieth Succubus archetype of the Fallen Anima, named, Forneus as well as the subsequent remote viewing session of her within his Arkham asylum padded cell, was no doubt a memorable experience. This Mind-Doll, said Alhazred, manifested as a Hokusai vision in the Tulpa form of Babalon being consumed as R'lyeh fish bait by a great sea-monster.
Alhazred sensed that this infernal Art Muse induced a Hentai vision, which of an erotic tentacle scenario went, "no further than the corner view of my cell where the conjuration has taken place. She was held within the circle and begins to 'speak' or should I say, sing to me like a hypnotic Siren as I remote view her."
He added that this Succubus, "appears to be manifesting as a plasma like figure who is speaking a Necronomicon language that I do not recognize."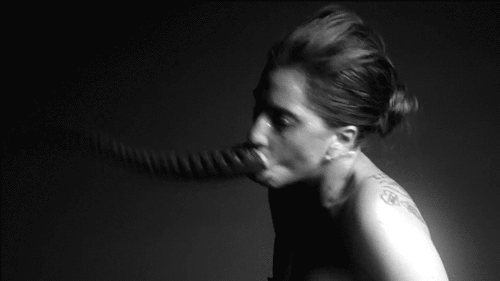 As his hands love-craft sketched the monstrous form of Forneus, Alhazred was surprised to find that the fish-bait Babalon the monster was consuming was part of the creature, which had a sucking tube of a mouth, looking like a vagina dentata.
A mystery, indeed, as you first examine Alhazred's' Artwork, which is best seen on The Erotic Mad Science website, CLICK HERE. But then, dear reader, as I began to research the things known about this Succubus, something interesting emerged.
"Forneus appears as a great monster of the sea. It looks like a primitive organism, which of a body is that of a fleshy tube having a tentacle for its tongue," said one description. "It's scales are precious stones, it's many eyes are like fire and the flesh of drowned Ama divers clings to its teeth."
S. L. MacGregore Freemason Matherson agrees that Forneus,appears as a great sea monster, but he further relates, "it had been originally created as homunculus by Professor Eustace Turpentine, of Innsmouth Institute for Marine Research. As his Little Lab Of Horrors creation rapidly grew to huge proportions, he found out that it had a liking for eating women. Turpentine named the creature, Gynephagos Turpentinii."
Others say the sea monster is Cthulhu, looking like an enormous octopussy, Oops! I mean, octopus. In fact, the old magicians referred to Forneus as the Marchioness of the amniotic Waters, saying that the primordial womb ocean is her natural Ry'leh home. It is also said that the Hentai tentacle visions of Forneus being consumed by an octopus points at an occult secret, which reveals that octopuses are aliens, whose 'frozen eggs' originally came from the womb depths of space. A controversial science paper has argued just that, suggesting that octopuses may have 'fallen' upon our planet as frozen eggs, which were carried to an ancient Earth within icy comets.
The paper, by 33 degree scientists (some having reputations as mavericks) was first published in the peer-reviewed journal Progress in Biophysics and Molecular Biology. The idea of alien life spreading like 'seeds' throughout the womb depths of space riding comets or meteorites isn't new, the theory is known as 'Panspermia'.
But the authors of the paper point out new DNA evidence about octopuses. The first full genome sequence of octopus DNA in 2015 showed that octopuses are totally different from all other animals. Their genome shows a striking level of complexity, having 33,000 protein-coding genes identified, more than in a human.
The paper reveals: "The genome of the Octopus shows a staggering level of complexity with 33,000 protein-coding genes more than is present in Homo sapiens." Some single-celled organisms may be able to survive extreme impacts such as within comets, scientists say. "It is plausible then to suggest they seem to be borrowed from a far distant 'Future' in terms of terrestrial evolution, or more realistically from the cosmos at large. 'One plausible explanation, in our view, is that the new genes are likely new extraterrestrial imports to Earth – most plausibly as an already coherent group of functioning genes within (say) cryopreserved and matrix protected fertilized Octopus eggs."
Octopuses inhabit every ocean of the Earth, at almost all depths, possessing a range of features, which call to mind science fiction aliens. These include prehensile sucker-lined tentacles, highly mobile, camera-like eyes sensitive to polarised light, sophisticated camouflage systems, which alter skin colour and patterns, jet-propulsion, three hearts, and the ability to regenerate severed limbs.
With this paper in mind, I look at Alhazred's Artwork once more and I am instantly reminded of the famous, The Dream of the Fisherman's Wife, also known as Girl Diver and Octopi, Diver and Two Octopi, etc, which is a zoophilia-associated woodcut design of the ukiyo-e genre, by the Japanese artist Hokusai. It plays with themes, which are very popular in Japanese Art, Manga and Anime, depicting a young Ama diver who is sexually entwined with a pair of gobbling octopuses.
But is this necessarily true, do women have the hots for Jungian tentacles? But what then about the Freudian stories told by the randy Pirates on sailing ships of old, who brought home tales of great sea monsters brushing their vaginal maws up upon the sides of their phallic vessels.
Could it have been that these visions were all glimpses of the Succubus Forneus? Did some sorcerer accidentally summon this powerful Anima archetype from another dimension, or was Forneus simply making a friendly dream visit to a lonely sailor passing by on the great expanse of a seemingly endless sea, under the oceanic canopy of panspermia stars?
Whatever the reason for her dream calling, Forneus probably was probably not a threat. Johann Weird, in his Succubus Sexualis of 1587, says he believes conjuring this Succubus only brings good fortune: "She maketh a Sorcerer woondeffull in 'explosive' rhetorike. She adorneth a Sorcerer with a good name, and the knowledge of (tongues), and maketh one beloved as well of foes as freends," Weird wrote in an early English text.
4 Responses to "FORNEUS OCCULT INGESTION HENTAI DREAMS"
This is an answer for Tobe Damit:

Tokyo Gore Police, and other works of similar style draws much from the highly imaginative ancient myths of Japan, which of similarity to ancient Chinese mythology are popuated by colourful characters and surreal creatures.

The only Western parallel I have come across, are the imaginative Eastern European fairytales, which populate the Shamanic style Witcher book series and computer games.

I haven't seen Tokyo Gore Police myself, so, I cannot comment on its celuloid artistry. Though its creatures are reminiscent of 'Elemental' Asura/daemons you would find in an adult version of Monkey's journey to the West.

The Manga/Anime journey to the West has greatly influenced the symbolic (tongues) 'Language' form of Western films, comics and especially video games in particular.

This is an answer for Y.G:

In the Native American Medicine Wheel, which describes the 'elemental' qualities of the Eight compass directions, the South is associated with the element of 'Water' and the colour 'Red.'

The South of the Medicine Wheel is where the practitioner enters the Sweat Lodge. The South is also associated with 'E-motion,' which of Energy-Motion, needs to be directed by 'Language,' wherefore, emotively 'Charged' desires require being conceptualised in the (Thought/Mind) North, when to Mantra list them.

The compass directions being Eight of number, can be symbolised by the symbol of an Octopus (Emotional Charge around the Medicine Wheel), as well as by a Spider (Wyrd Web of connection with all), or to artistically fuse into an Eight-Legged Night-MARE, to Hypnagogic Trance ride.

This is an answer for Nick Otmazgin:

Ale-house 'Alu' is found in numerous Elder Futhark Runic inscriptions of Germanic Iron Age Scandinavia (and more rarely in early Anglo-Saxon England) between the 3rd and the 8th century.

The Soma bind-Rune usually appears either alone (such as on the Elgesem Rune-stone) or as part of an apparent formula (such as on the Lindholm "amulet" (DR 261) from Scania, Sweden).

The symbols represent the Runes Ansuz, Laguz, and the 'U' of an Uruz. (Lascaux Sweat-Lodge Art Gallery Cave Aurochs = Uruz)

So, when an Artist enters the Watery 'Menstrual Blood' Rubedo door of an Alu-womb-house Art gallery he/she should avoid becoming a politicised simulacrum; for the brainwashed PC-SJW brains of the hypnotised collectors are invariably all frothy on bourguignon, 'Spun' as topiary spinning tops, who are being utilised as programmed automatons to initiate a fascist-totalitarian Entartete Kunst, which is just a collectively engineered distraction to not see the ongoing Middle Eastern Gore.

Wherefore, if a rebellious Faustian Artist does not overly indulge, said Horned Sorcerer Artist will become more Lucidly aware of the macrocosmic symbolic synchronicities, which to feed-back the Emotionally 'Charged' symbolic Art of the Watery microcosmic ElecTRON Muse dream.

But, in order for this to be achieved, the Faustian Artist needs to first Doctor Who Odqan know what is being desired in accordance to a conjured Valkyrie Muse Element around the Mandala Medicine wheel of a TARDIS-Night-MARE Zodiac.

This is an answer for Y.G:

The 28 (Tzaddi: Cabbala path) page Little RED Book, you 'want,' can be found strewn across the Wyrd web of the internet.

When engaging in your quest for the book, there are a number of 'web' sites out there, which use it as free Bait.

But it might lead to explosive content being downloaded into your computer, playing havoc with your brain, worrying about a virus.

What you 'want,' you may have to buy from an Amazon.

The Red book technique is quite simple. You write down an Internal Dialogue list of what you 'want,' which you then go over as a form of Meditation, to further refine of Self-Analysis, which enables you to determine what you really 'need.'

Basically, if you don't consciously know what you really 'want,' how can your subconscious/unconscious mind set about attaining what you 'need.'

Your list can be created as a spider-web 'Mind-Map.' Should you be artistically inclined, the 'Mind Map' can be drawn as a 'Mandala,' around which of a personal Octopus 'Medicine Wheel' you can place associative 'Art Muse' inspired 'Images.'

As mentioned before, the subconscious/unconscious mind does not think in Words, it otherwise thinks in associative (Emotionally Charged) conjured 'Symbols/Images.'

In other 'Words,' if you use 'Words,' the 'Words,' you use, will need to (Fish-Hook) conjure potent 'Symbolic/Image' associations of what you 'Want/Need' amidst your Triangle Of Art Imagination.

(The 28 page RED book = The 28th Cabbalistic path of 'Tzaddi,' which is associated with the Tarot Card of the Star XVII. In the Native American Medicine Wheel 17, is associated with the South-West, where the Kachina 'Images/Archetypes' are said to reside, between South/Emotion and West/Dreaming.)

Best keep the technique simple. The complexity only arises when communicating your experiences via Art. Hence the reason why the occult appears to be complex, because it is basically an Art form.